Improved Filters
Searching through the gym's Template workouts has been enhanced with additional filter options.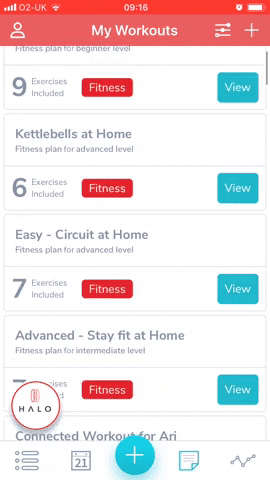 Additional filters include:
Age - select your own age in the filter dropdown and members will be presented with all workouts that match their age to a pre-defined age category. 16-21, 22-54 and 55+.
Gender - search for workouts that are designed for Male only, Female only, or workouts that can be performed by all genders.
Perform at Home - toggling on this option will return workouts that are designed in a way that they can be performed at home.
Duration - search by duration using one of the three defined categories: 0-20 , 20-40 or 40+ minutes.
Note: the available filters will depend on the filters that are enabled by the facility. By default, the app will only feature Workout Name, Goal Type and Expertise Level. Facilities can choose to enable all of the additional filters or certain ones.
Workouts are created and managed by the facility therefore sufficient Template workouts will need to be created before activating the new filters.
Filter My Workouts
Alongside the improvements to searching for Gym Template workouts, the same filters are now also available in My Workouts, making it easier for members to filter and find the correct workout.
Note that the filters available to members within "My Workouts" will be the same as those available when searching for Template Workouts. The new filters of Age, Gender, Perform and Home and Duration will only be visible to use once the facility has requested these be enabled by Halo Fitness Support.
Active Filters
When your results have been filtered, the icon will display a small 'dot' (shown here in blue) to symbolise that the filters are in use.
Return to the filters and press "Reset" and then "Search" to see the full list of workouts.
Other highlights
The selectable area for clicking icons and buttons has been increased, making it easier to select icons such as 'X' to close, and "reset".
Heart Rate is now mapped from third party integrations such as InBody directly into the app's Heart Rate statistics. Note that this requires the Heart Rate statistic to be activated in the facility. Speak to Halo Fitness Support to activate more health statistic types
Bug fixes and performance improvements